AUTOMOTIVEST
Is the first automotive cluster of the West Region Romania (Timis, Arad, Caras-Severin, Hunedoara), coordinated by the West Regional Development Agency , non governmental body of public utility, in charge of the economic development of West Region Romania.
Automotive Industry in West Region Romania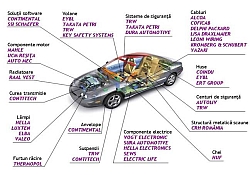 More details about the automotive industry in West Region, here.
The development of the automotive part sector in the West Region has been achieved both through the specialization of some domestic companies and by attracting foreign investors.
From the point of view of the products made in the West Region, we can speak of 156 companies whose production falls completely or partly in this sector.
About the West Region Romania



The West Region lies in the west of Romania, at the border between Hungary and Serbia, consisting of four counties from an administrative-territorial point of view: Arad, Caraş-Severin, Hunedoara, and Timiş. The West Region has an area of 32,034 km2, accounting for 13.4% of the country's area.